Modifying a Transfer Slip Report in QuickBooks Point of Sale Desktop
In order to add price information to a transfer slip, you must modify the report.
1. Go to File>Tools>Print Designer.


2. Then, in drop-down, select Transfer Slip>select the Letter template>Under Options select Copy Selected.


 
3. When new window pops up, select Save As.


4. Give your new template a name and select Save.


5. Now, double move cursor to the section you wish to modify.


 
6. Double click to open a new window and then select and/or deselect items you wish to add/remove from the report. Click OK to continue.



7. Next, click into the next section to add totals for colums you've added, then click on Add>Data Field or Group of Fields.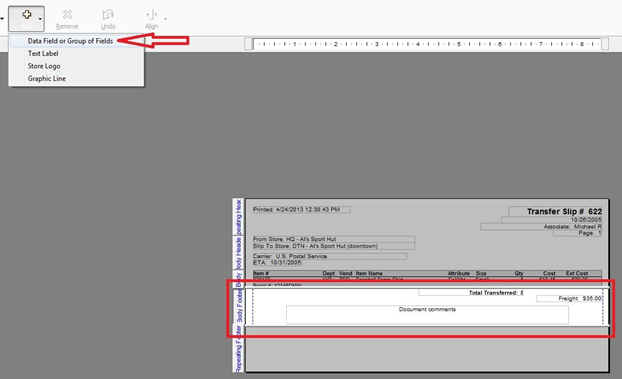 8. Select Total Cost, then OK.


 
9. Repeat the last steps and add Total Price if you wish.
10. Click "Save" to keep your changes.



11. Then click "Close".



12. A message will pop up asking if you'd like to make this the default template.


13. Close Print Designer.