This Article reviews using Matrix functionality in the Management Console.  We have noted the Field Labels with a description and how they are used.
Note: Matrix Products can only be setup if Matrix functionality is turned on for the establishment.
Reminder: Use the window on the left to set only the fields you want to display on the right.  Use Set as Default so you do not have to set each time.
Benefit: Placing Products with similar Brands and Packages on one Button on the POS.
Example: New Belgium Product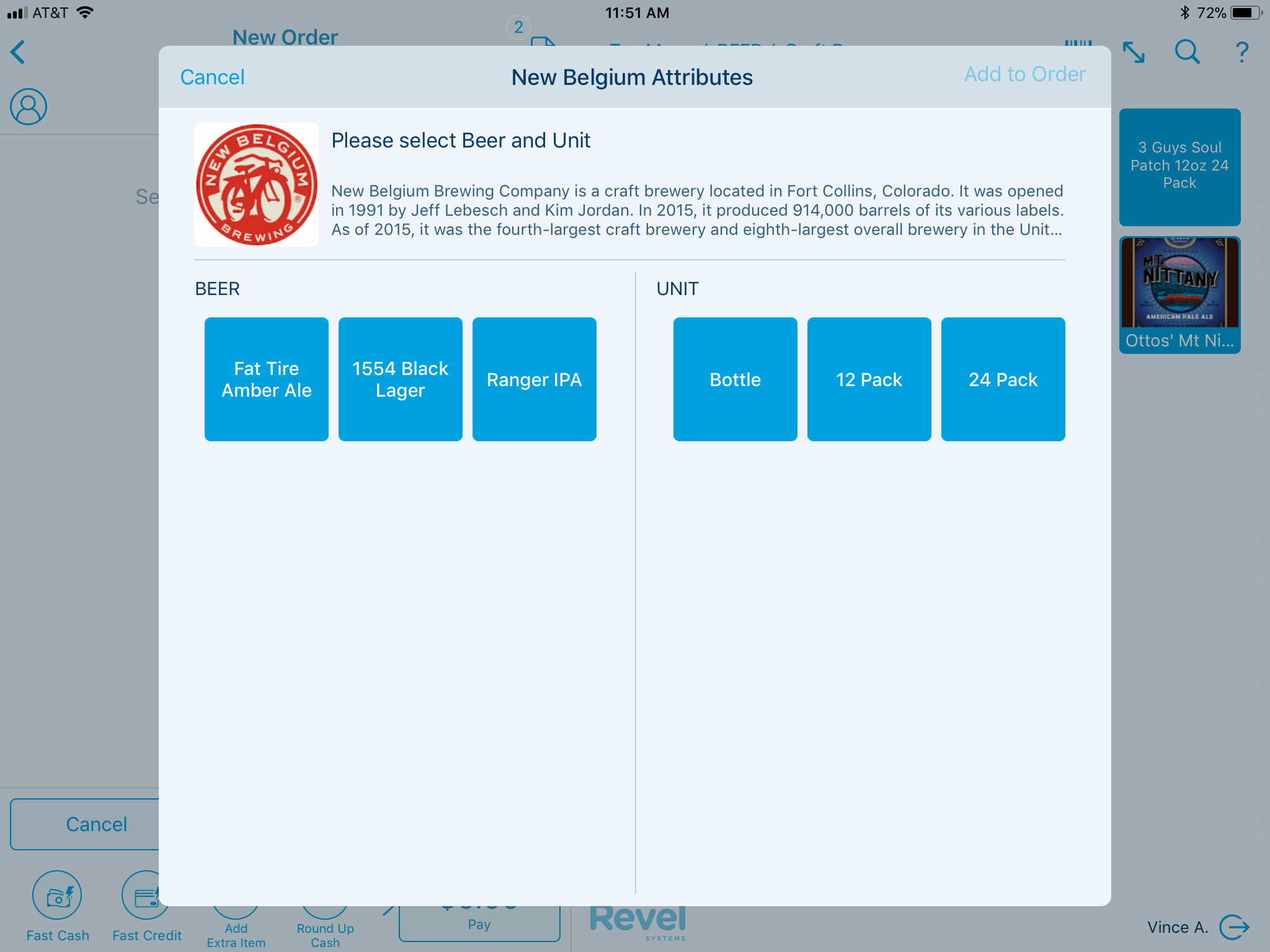 Advanced Product Details / Matrix Options
Attribute Type:
This field is required (Noted by the *)
TIP: Attribute Type (Matrix Products) is ONLY used when you want to put multiple Products in the same Brand with different Packaging under one button.  For example you stock and sell New Belgium Products in Singles, 12 PACK, and 24 PACK, etc, and you want them on one POS Button.
Note: Attributes must be setup in advance of creating a Matrix Product.  To setup Attributes: Management Console / Products / Product Attributes
Parent:
Must select a minimum of one Attribute Group and a maximum of 2 (Attribute 1 and Attribute 2)

Attribute 1 - Brands
Attribute 2 - Package
If receiving a new Product you will need to confirm the Brand and Package exist in the respective Attribute Groups before creating the Parent Product.  This is done in Management Console / Products / Product Attributes

Attribute 1 Name = Brands
Attribute 2 Name = Package
Only one Parent Product per Brand
Child Products will be grouped under this Product as:

POS Button
Management Console / Products / Products - Top of the hierarchy
Child:
Attribute Type: Child
Attribute Parent: Select the Parent Product
Attribute Value 1: Select the Brand from the Brands Group.  Must exist in list.
Attribute Value 2: Select the Package from the Package Group.  Must exist in list.
---